Install Unraid
July 11, 2021
The NAS / server operating system Unraid is installed on a USB stick and boots from this USB stick. Therefore it is important to use a high quality USB stick. The USB stick must have at least 1GB memory, maximum 32GB are supported. It is best to use 16 or 32 GB.
Create Unraid Bootable USB Stick under Windows / MacOS
Download USB Creator Tool from Unraid.net. On the official download page of Unraid you can find the USB Creator for Windows and for Mac. If you only have a Linux computer, you will find instructions below.
Select and download the USB Creator tool for your operating system (Windows or Mac). The program does not need to be installed.
Select the Unraid version you want to install. If the server is a production system, it is best to select the latest "Stable" version.
Under "Customize" you can change the server name, the network mode (DHCP and Static IP) and allow UEFI boot. The server name is the address under which the device will later be accessible in the browser. This can be changed later. The network mode decides how the server gets its IP. In DHCP mode the server gets its IP automatically from the router. If you choose "Static IP" you can give the server its own static IP.
At point two select the USB stick on which you want to install Unraid. If the USB stick is not listed, you can reload the list by clicking on the file.
Click on Write Image to download and install Unraid. Once the process is complete you can plug the USB stick into your server and Unraid will boot.
The web interface can be accessed by typing https://tower (or the changed name) into the browser.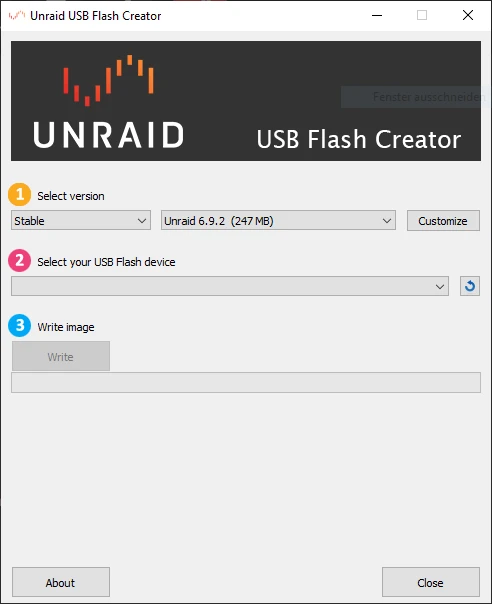 Create Unraid Bootable USB Stick on Linux
There is no USB Creator available for Linux. There you have to do the installation manual. To do this, download the latest file from the official download pages under "Manual Installation".
Copy the files to the USB stick formatted in FAT32 format.
Execute the "make_bootable_linux" file. After that you can boot from the USB stick.
30 days trial version
To use the 30-day free trial, an Internet connection is required. If you decide to use Unraid during or after the trial period, you can simply enter the license key you receive after purchase into the web interface.